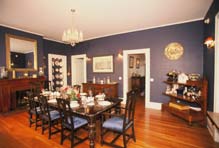 The focal point in the morning is our large comfortable dining room. We serve a full, four course breakfast from 8:00 - 9:30, or earlier if required. You will enjoy our house specialty porridges, fresh muffins and baked goods plus you can order your entree from our menu. There are always four items on the menu, from a simple bacon & egg breakfast or fresh fruit smoothies or French Toast with Boozy Banana Sauce to Asparagus Omelettes with homemade Boursin. Our menus change daily, so you can enjoy a new selection daily. A good start for the morning!
The living room is the most eclectic room in the house with furniture from the Netherlands, France and England. From 300 year old antiques to fine reproduction furniture.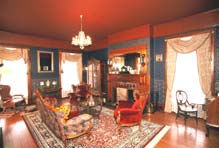 This room is quiet, peaceful and since it faces east, a fine morning room for reading and relaxing. A small writing desk contains notepads and brochures for local attractions.